Tapos na ang pasko but I'm sure mainit pa rin ang mga bibingka ng mga Beckitita sa tabi-tabi dahil nagkaroon ng major shortage ng Puto Bumbong. Don't worry. Magiging bongang-bonga ang 2011 para sa inyo. Sure ako dahil nafi-feel ko sa matris ko. And speaking of matris, putcha talaga, bumondat ako. As in! Ang payat ko pero ang laki naman ng tiyan ko. Butete levels lang naman, right? Kulang na lang sa akin Police Uniform, isang bongang buwaya na ako.
Rawr!
You know when you just had a vacation, kahit na super sandali lang, you'd have this "i miss" phase about it. As in my case, nami-miss ko ngayon yung Baguio trip. Baguio was dirty, congested, traffic and all. Pero ang nagustuhan ko lang naman was the weather and boyfriend's company (yeeheeee!). A week ago I took this picture from our hotel: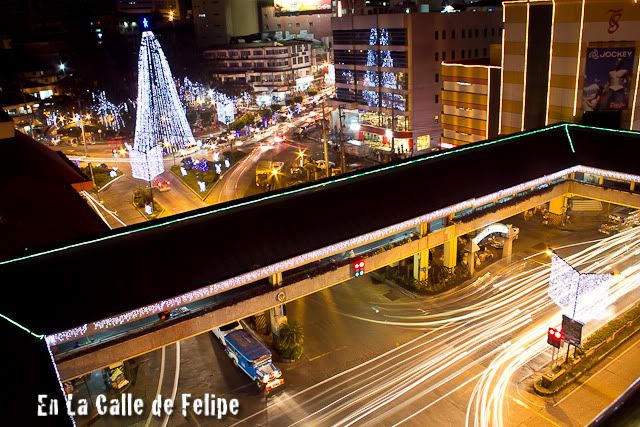 New Year's eve, I was at Country Club Drive with my dog, getting a better view of the fireworks.
So what do I love about 2010? Well, I re-discovered 2 things. Blogging and Twitter. Ahaha. Ang dami na pa lang beckititas na nagsusulat. At wag ka. They're funny! At ang iba, hotness! Yung iba, cuteness! At ang natitira, kembotness. LOL. I learn a lot from them. Mainly katarantaduhan. Ahaha. But they keep me entertained, kung may time man akong magbasa ng mga blogs. Dumami na rin ang Twitter friends ko. But I had to delete my old twitter account dahil na-infest ng mga spam. May ganung eksena pala sa Twitter?? Kaloka.
Last Sunday, I was with the boyfriend and had a few of my first purchases for the year from Greenhills: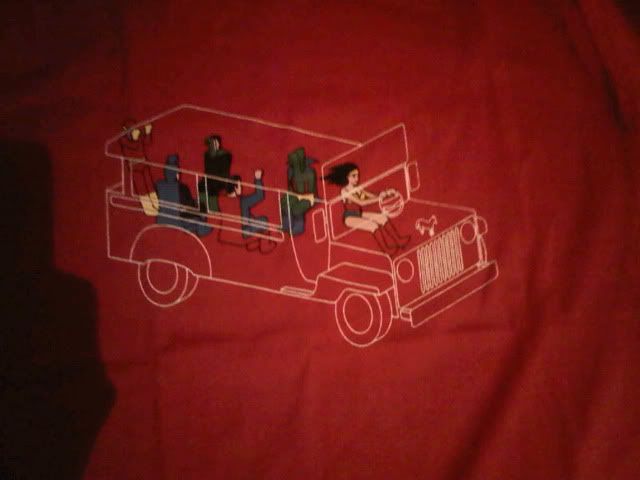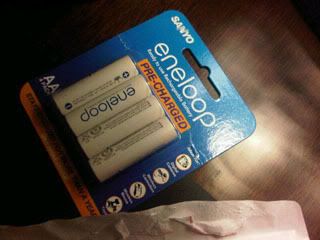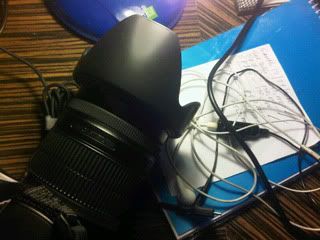 - A kenkoy shirt of Justice League with Wonderwoman and her invisible jeep. You can also see Flash, Batman, Greenlantern, martian manhunter and Superman.
- Sanyo Eneloop rechargeable batteries for my Speedlite (500 pesos lang!).
- And a JJC lens hood for my 18-200mm for 600 pesos that is 1/3 for of the price of an original Canon lens hood.
It wasn't a good start for some, though. A high school batchmate of mine died last December 30 in his sleep. Probably had a heart attack. I visited the wake yesterday morning. It was a quick visit and had a little chat with his brother. It was sad. Pero napansin kong iba ang atmosphere. It wasn't heavy. My impression is that family and friends accepted what had happened. Which is something positive. Drew and I were not close. Lalo na after high school. Pero nagkikita pa rin naman minsan diyan sa tabi-tabi. Alabang isn't a big place. And so is ATC. Hehe. On his casket, there was this group picture of his barkada na kilala ko. It was taken when we were in Grade 7 during an over night retreat. According to Drew's brother it was brought by his friend Francis and at natawa naman ako kasi nakasama pala ako sa picture na yun. Gitnang-gitna pa. I was skinny and had so much hair!
I laughed.
Right now I'm home. Nursing a flu. My first bed rest for the year. Hopefully, hindi ako ganito for the rest of the year. And this is what I also said last year so yeah, good luck to me on that.
*cough cough*