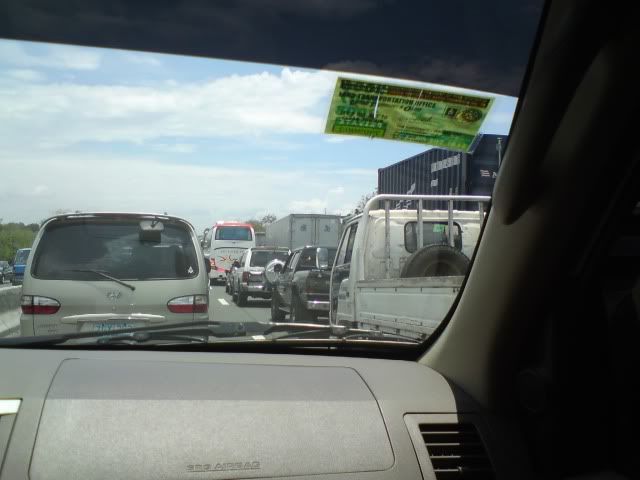 In the Time Wasting department, my day was something. This is worse than spending half your day in a government office. I was on the road most of my time because of the punyetang SLEX traffic. Tapos ang init- init pa. Kawawa naman si Nonoy. Sino si Nonoy? Yung driver ko. Ehehehe. Ang bango-bango niya today. In fairness, wala siyang kaamoy na lalakeng nakain ko sa CB before. So unique siya. Ahaha. Gusto kong kainin driver ko. Rawr!
I wish I could blog while on the road kaso, one, mobile internet is so mahalia fuentes. I'm already paying for my broadband connection at home. And two, my X2 is so bulok kaya. I can't even connect to my google map! Either that or maybe my Sun settings isn't configured right on my phone. Or bulok talaga ang sun. Leche. Pero cool sana yun 'no if i can go online anytime i want. Kaso olats. All i can do for now is type on my phone. Pasalamat na lang ako kahit na paano may Mobile Word ito. Dahil kung hindi inihagis ko na ito sa bintana at sasaluhin ng isang jejemon sa katabing jeep.
Jejejejejeje.
Yesterday boyfriend and I were browsing DVDs at Astro in Festi tapos nakita namin DVD ng 2012 na may kasamang documentary. And then he said pakiramdam niya talagang malapit na daw ang end of the world. Natakot naman ako di ba? We've talked about this before. I've also talked about this with friends. And this is what Brian and I were talking about a day before he passed away. I don't wanna be around when that day comes, if that day will really come. Pero we've been praying for it nga eh. It's in the Lord's Prayer. Ugh! It's so hard to keep the faith when you're afraid. Dati sabi ko sa sarili ko I wanna die young kasi I don't wanna go through the trials in life anymore (naks!). Pero ngayon sometimes gusto kong mamatay kasi ayokong ma-witness ang end of the world kung maisip ko man yun. You can't blame me. Puro violence ang pinapakita sa End-of-the-world movies kasi. I don't wanna die screaming in pain or in terror 'no.
Alright, thinking about that just made me sad. Amoyin ko na lang si Nonoy para matuwa ako.
* sniff snif.
Mmmm. Musky. Machew.