A couple of days ago I read an online article about AirTran Airways in Atlanta denying a 10-year old girl and her sisters from flying because she had a caged 2-inch turtle with her and bringing of reptiles onboard is bawal due to the salmonella bacteria or whatever chorva (Google: Airline makes 10-year-old girl throw away her pet turtle). The airline crew ordered the sisters to throw away the pet in the trash if they wish to board again which they did. Pero cry naman ang mga ate. Don't worry, their father was able to save the little reptile. But the airline crew's behaviour was just disturbing for me. I have a turtle din kaya! When I got it a few years ago, bago pa dumating sa aking life si Mimi Sue, it was also just 2 inches long. I named it Ramone. So bakla, may "E" pa talaga sa end. It actually had a girlfriend kaso madrama kaya it died. It grew a bit then it stopped. When we moved last year his shell was as big as my palm. I let his stay in the fish pond which I think was the best environment for him in our house. Last Saturday, hinuli ko siya and was surprised to see that his shell is now bigger than my palm and he's not very shy anymore. In fact, gusto niyang kainin ang daliri ko. Anyway, I left him sa terrace for a few hours for walking walking-on-dry-land time then binalik ko siya sa pond.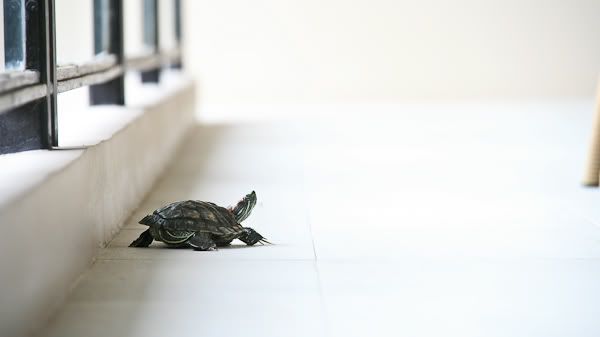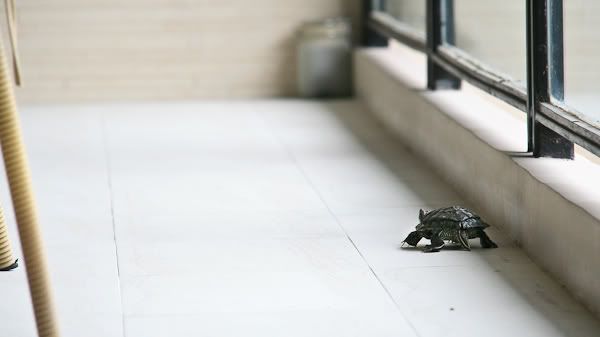 *****
ANYWAY. There are a lot of things in my head right now. I so wanna make chika. McVie (with 2 others) is finally having the book launch on the 10th and I CAN'T BE THERE because I will be in Boracay on that weekend (na hangang ngayon di pa alam ng nanay ko... sige bukas sasabihin ko na). Parati na lang ganyan. Whenever McVie invites me to something, I would always be at some place else. But hopefully in the next Fab Casters party makadating na ako kasi I miss getting drunk in a sea of homosexuals. LOL.
*****
Last week I received something from Union Bank.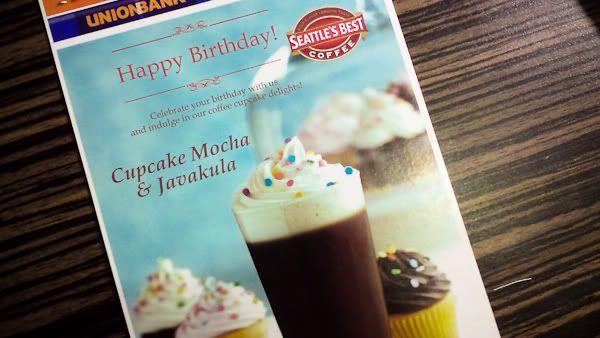 It was a birthday "gift." Eh kaso may catch.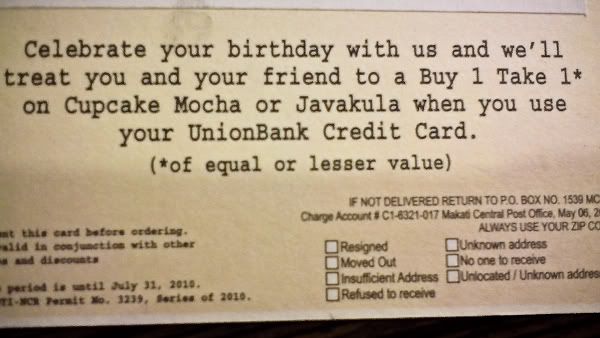 Buy one take one na nga sa SBC, kailangan pang gamitin yung Union Bank Credit Card ko. Sana libre na lang, di ba. Ang cheap-o talaga ng marketing ng Union Bank. Kaloka. Well, I never activated my UB Credit Card and had it shreded pa nga last year (kasi the bank is LOUSY, kaya I suppose the credit card service is lalong lousy) so this "gift" is as good as nothing. Ahaha. Bwiset.
I miss iBank. :(
*****
I didn't go to work today. Well, actually, in the morning I stayed at home and did some catching up with my paper work. My calculator hates me kasi pindot ako nang pindot. LOL! Well at least I didn't do my rounds. Was just giving myself a break. Sort of.
*****
I spent the first part of my afternoon at Starbucks ATC finishing up on my paper work, then spent the rest of it with the boyfriend eatting and shopping. Nagasgas nanaman ang credit ko. Tsk, tsk, tsk.
*****
I received a couple of cards from my employees today.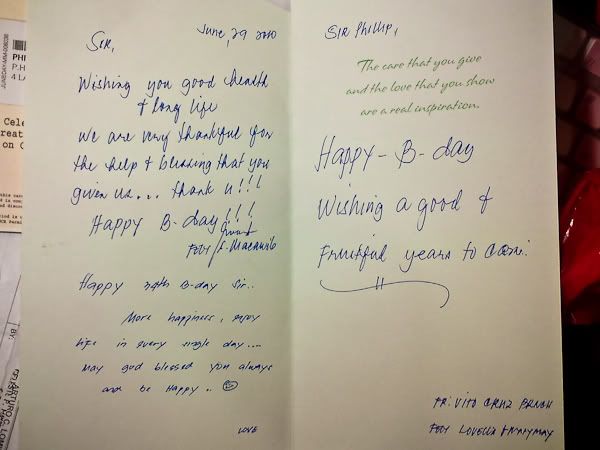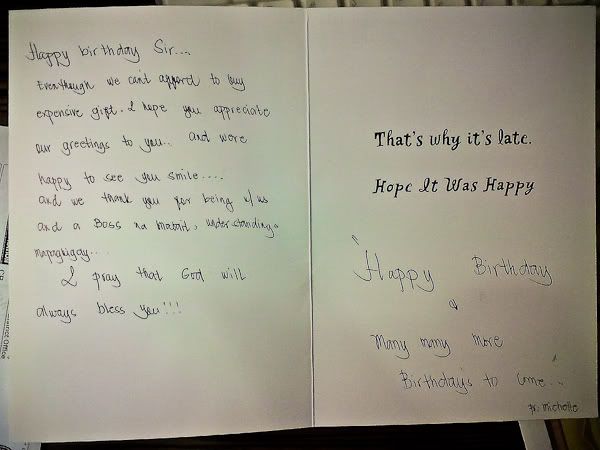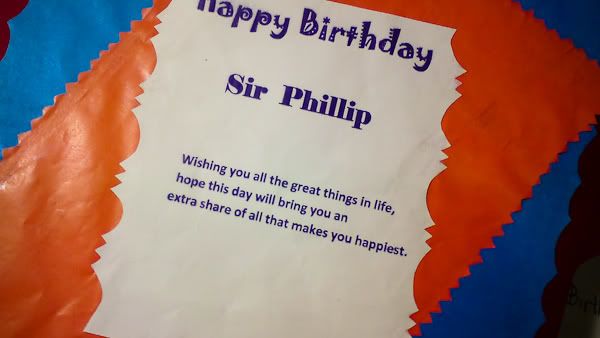 Kahit yung isang driver binigyan ako ng card.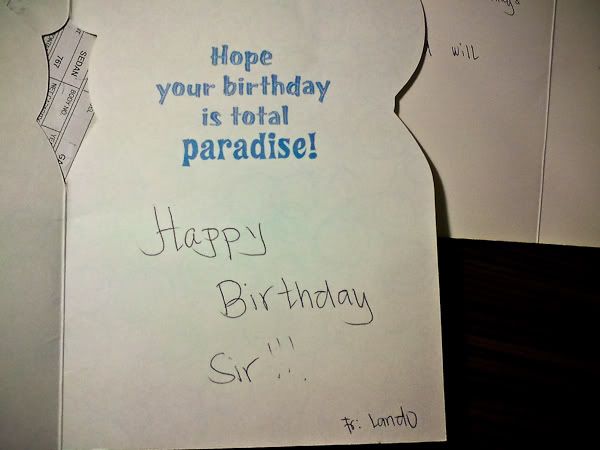 Pero walang card sa akin si Nonoy. Hmph! Di ko na siya aamuyin. Hmph!!!
LOL!!! :P
So you see, I'm not a kupal boss. I'm a really nice boss!
Ehehe ehehe.
I know, sablay ang english kasi these are high school undergrads who we gave the opportunity to work for us so really I super appreciate their effort. The other branches and employees sent me text greetings this morning, napuno halos ang memory ng phone ko. :D
*****
Ayoko nang lumabas pa kami for dinner coz I was already tired. And maybe I was also too lazy to think of where my family and I should eat (Although I wanted to eat at the Japanese resto at Casa Susana that we often go to kaya lang super lazy na ako). Kaya we had dinner na lang at home with my Kuya, Ate, Cousin, a nephew and 2 Titas. And that's how I ended my birthday.
Although it was fun celebrating my birthday weekend with friends, I think I will go back to having birthday vacations again starting next year.