I just had my first beach weekend for the year. It was a 4-hour drive from Manila to Zambales. Maybe more.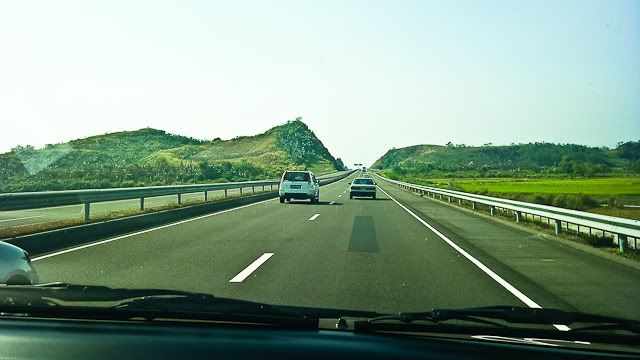 O sige. 5-hour drive. But I'm blaming the excess time on our vehicle. Wag na kayong bumili ng automatic Isuzu Sportivo! We reached the Town of Iba in Zambales just in time for lunch. We ate at Chowking. Everything we ordered was different from the pictures posted at the counter. Jard's Chowfan was I think the worst.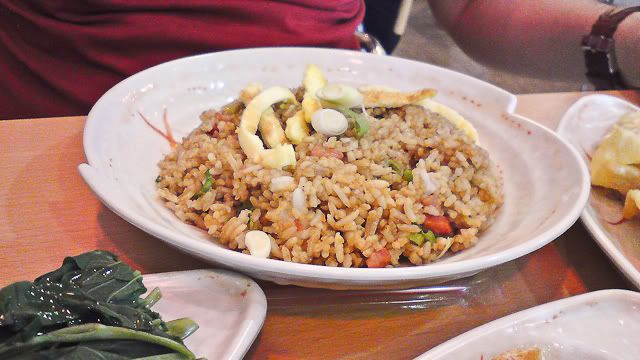 Sa picture nila mataas at madami yung rice nung dumating yung food flat pala siya. Ano na ba ang nanyari sa "Truth in Advertising" ngayon? Tsk, tsk, tsk. Yan ang Pinoy!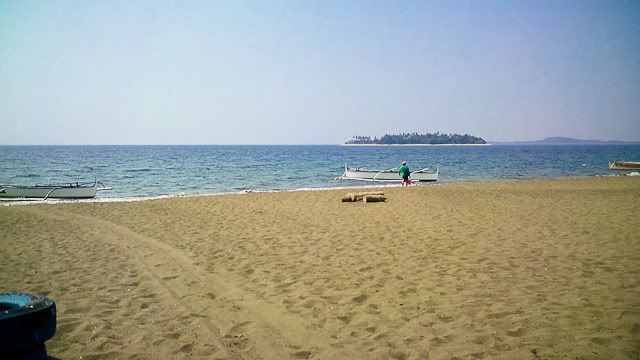 We reached the resort less than an hour later. As soon as we checked in at Dawal Resort (1,850 pesos for the weekend good for 4 persons), we went to the beach to meet the bangkero who will take us to Potipot island.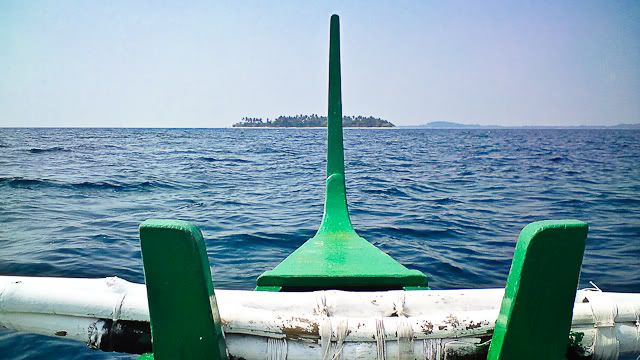 The boat ride -- 400 pesos round trip -- is just 5 minutes away. Ang sabi pwede daw languyin papunta sa island. Kung kaya lang naman ng powers mo. The weather was calm but it was still a mistake to sit at the front of the bangka. Para akong nag Log Jam sa Enchanted Kingdom. Hindi pa ako nakakatungtong sa island, basa na ako. Kaya 'wag nang tangkaing ilabas ang DSLR kung nakaupo ka sa harap.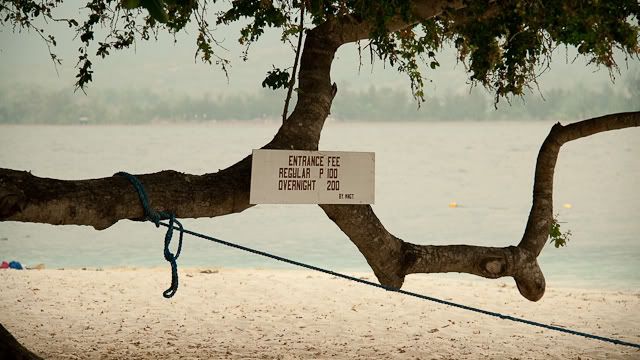 The "entrance fee" is 100 pesos per person. But if you plan to camp overnight, it's 200 pesos. Oo nga naman. Nakalagay na sa picture.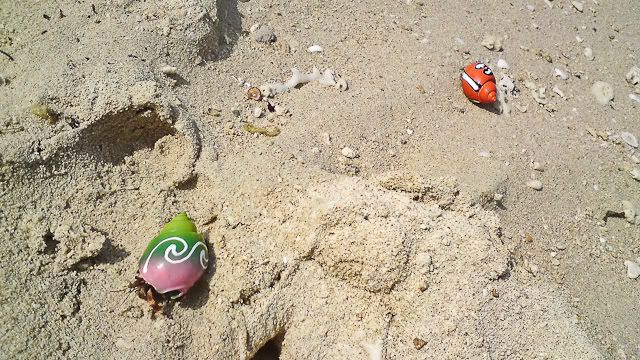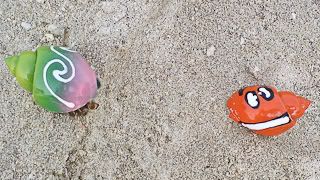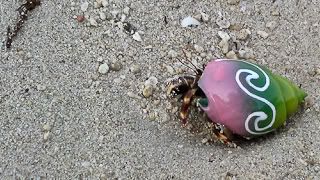 I brought my hermit crabs with me so I can set them free. As pets, I think they're boring. Kaya pinakawalan ko na lang sila. Mukhang sad naman sila sa akin eh. As soon as we picked a bench to settle in, I went closer to the water, placed them on the sand and let them rest. Sana hindi na sila pulutin ng ibang tao! I saw them a couple of times underwater while I was swimming.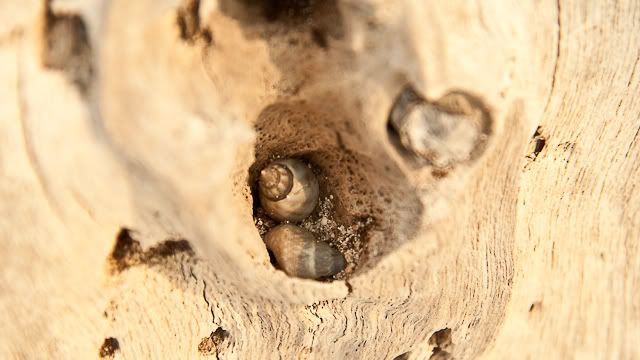 I was afraid they won't be able to adapt to the new environment. Wala kasi akong nakikitang ibang hermits. Yun pala they're just smaller and live in tiny unpainted shells. :)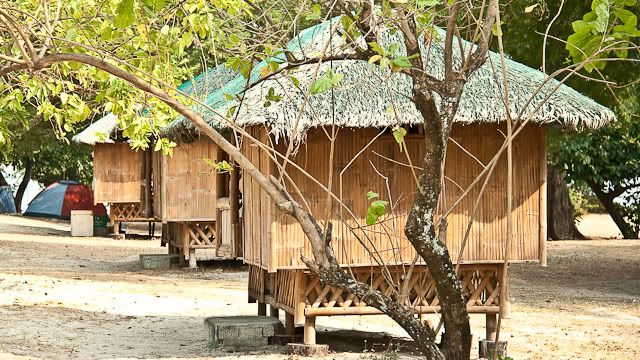 There are wooden huts on the island but I don't know the rental fee for these kung meron man. Kung gusto mong makatipid, makipaglandian ka sa Atenista o Lasalista cutie na may tent para doon ka mag over night. Pero siyempre tatalab lang ang powers mo sa ganung level kung may dala kang kagandahan.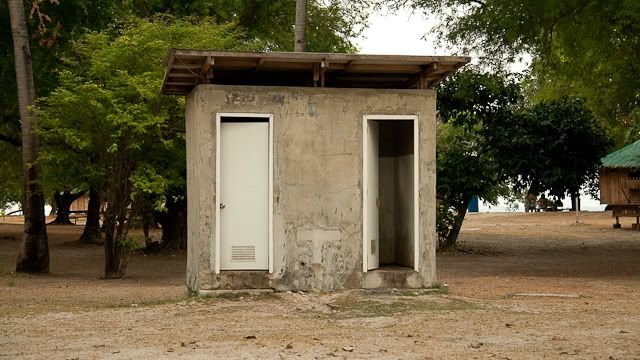 Toilet use is free. You can do either a number 1 or a number 2. Just flush your own crap, of course. Buhos system.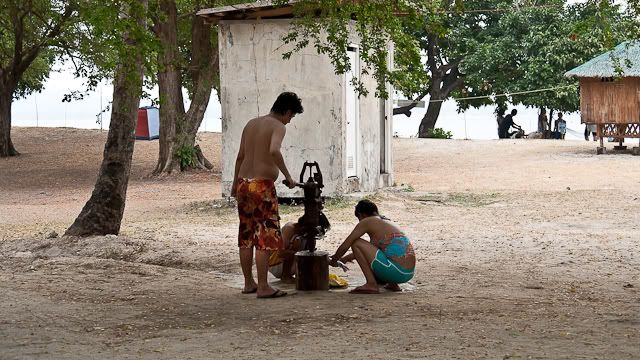 The water pump is also for everyone's use. For bathing or cleaning.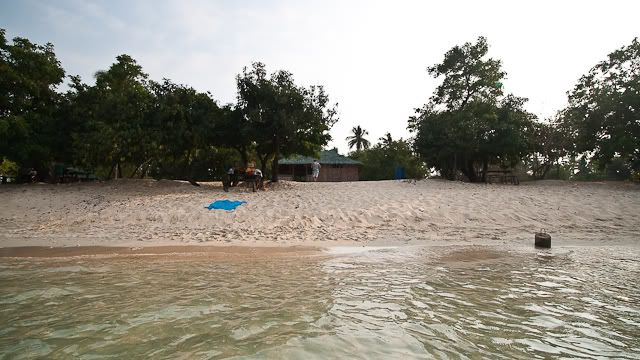 The water was really clear. The kind of beach everyone would love to go to.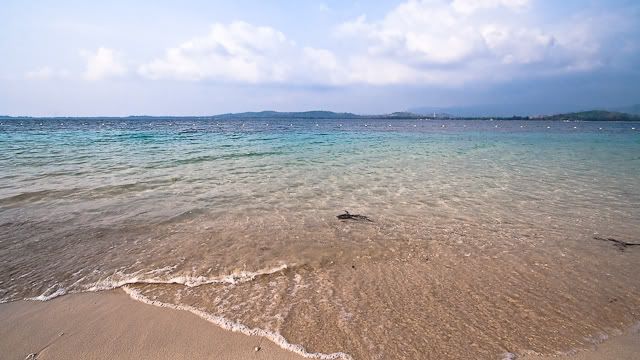 There's a safety line indicating the boundary where it is safe to swim in. And I was glad to see visitors pitching in to keep the place clean.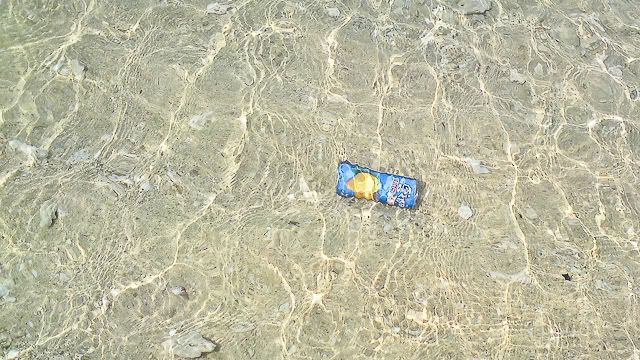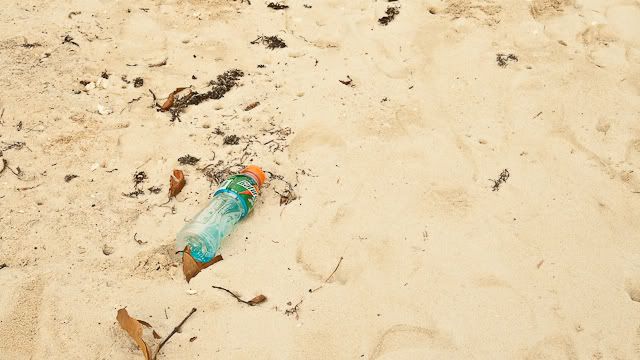 Pero di rin maiiwasan na magkaroon ng mga bisitang nangiiwan ng basura.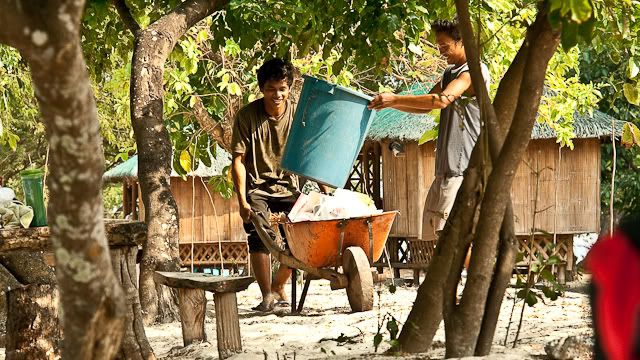 There are garbage bins around the island. Maintenance personnel collect the trash from time to time. Dapat ganyan din ang gawin sa Anawangin, kung hindi pa yan ginagawa ngayon.
Aside from the small pieces of trash, the presence of jet skis was also a disturbing sight for me. Potipot Island is pictured as a clean and serene place but the use of this watercraft contradicts that image. Jet skis are noisy, they leave behind traces of gas and pollute the air.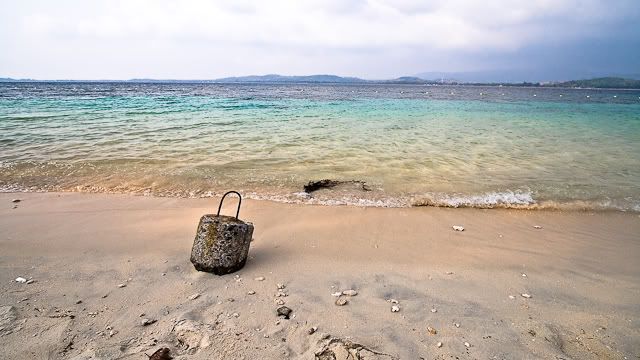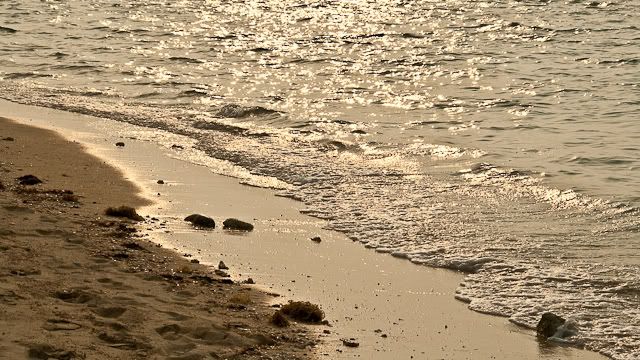 Overall, Potipot is nice place to visit for the weekend, just as long it's not crowded. A day trip is enough. The island is so small, you can walk around it, along the beach, in less than an hour. I'm expecting more people to discover this little getaway place soon. If I were as rich as Villar, I'd buy this island for myself and keep it private.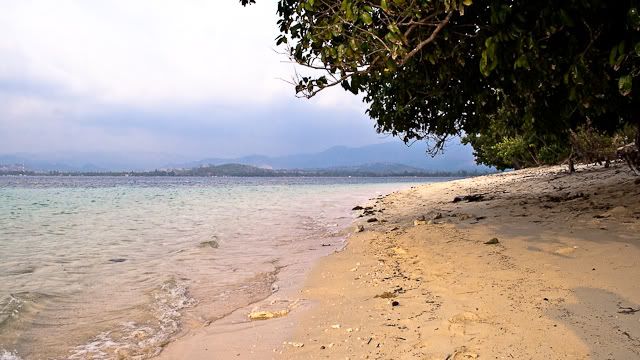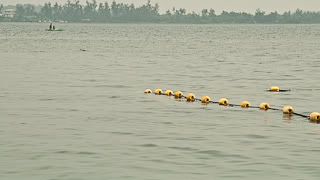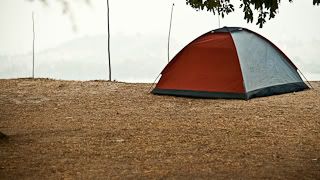 Pagbalik namin sa resort, nalaman naming may gimmick pala si Badong at si Inday.