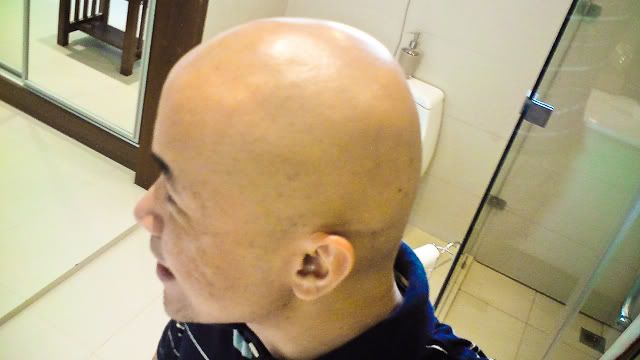 This is the shortest haircut I ever had. My first time to have my head completely SHAVED (and my first time to see a barbero in almost a year!), and it feels wierd. The shaving process took at least 20 minutes. Visually, I THINK it looks almost the same as shaving my own head with an electric razor. Because for one my Mom and Dad didn't even notice my totally hairless head! And when I told them what I did, sabi lang ng tatay ko nasisiraan na ako ng ulo. Sabi naman ng nanay ko mukha akong bola. Har! Actually, nasiraan ako ng hair follicles. 2 years ago I had my balding spot treated at Svenson Hair Clinic. But 6-digits pesos later, my head still looked like a buttoned siopao, not anywhere like how Joey Marquez or Mark Gil looked in pictures, kahit mukha pa rin silang naka peluca. I continued to lose hair as months went on. Now I'm just embracing my baldness. I'm as bald as a pwet.
I might do this again. The total shaving I mean. Maybe next time when I get a (quickie) vacation to save myself of shaving in the morning and packing my electric razor in the bag. But not on a beach vacation. Maybe. I took a shower this morning after my workout and the hot water gave my head a burning feeling. It must be worse when I'm under the sun. Or baka sanayan lang yan.
I'm glad I have a better looking head than many baldies (sabi ng nanay ko).
* Pendong