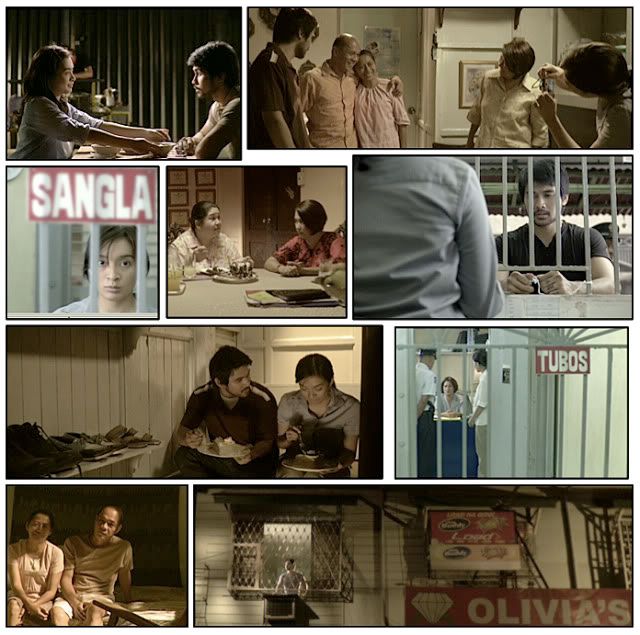 "'Pag may gamit na hindi natutubos sa pawnshop, iniisip ko ano kaya ang nararamdaman ng taong may ari ng gamit na yun na isusubasta namin. Paano kung bigay yun sa kanila ng magulang nila? O kapatid? O asawa?"- Amy, "Sanglaan"
When I hear the term
Indie Film
, what comes to mind is a tasteless and cheap, low-budget film that is usually gay themed and that can pass for porn yet producers say that it's art. But thanks to Cinemalaya, Indie Film producers who promote decently done cinematographies have a venue to feature their art. One of the films that I wanted to see in last year's film festival was Sanglaan. The title is also the movie's setting which is a unique venue for a story. That attracted me to it plus the fact that pawnshops have a connection to my life. O sige, FINE, curious din ako kay Joem Bascon. Ahahaha. Putek, ang HOT niya, kahit hindi siya naghuhubad. RAWR!
I bought a DVD copy last weekend while roaming around Powerplant Mall. It put a smile on my face when I saw it on the rack. Sanglaan is the most recognizeable word in my personal dictionary.
Sanglaan is a story of 5 main characters each having personal conflicts but still connected to each other. It shows a pawnshop set-up that is slightly familiar. The events are realistic and the business problem situations presented are the actual problems and fears every pawnshop owner has. What can be disturbing in this business is no matter how much you give your faith to your god, bad things will still happen. It clouds one's mind with doubt but only for a while.
Generally, what I like about the film is how it presented the story. The cinematography is note worthy (I want my own HD camera…. Echoz!) and the final effect is sentimental. The actors were very good. People who are tired of "porn in indie film" will be happy to know that there is no nudity whatsoever in this movie. However, inspite of my praises, the movie was forgettable, but not in an aweful way. It's still a good an hour and a half of your day if you don't have anything important to do.