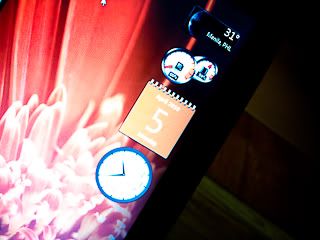 When it's cold, it's still hot. And when it's hot, it's REALLY hot. That's how it is now. Summer. I love it, and I hate it. I hate it because I sweat more than usual. I will love it only when I'm at the beach.
No sign of cold summer nights, yet. An hour ago, at 8pm, it was 31 degrees outside. I'm not an aircon person but it seems I will be using it for the next few weeks if I'm aiming for a better night's sleep.
Ako pa eh insomniac ako.
*****
Today was not a good day. Not because it's a Monday. I miss my weekend already. 3 or 4 days na sunud-sunod na kasama ko mga kaibigan ko was fun yet tiring. I was so sleepy today, I was able to take naps in the car in between branch trips. This is the normal side effect of a good weekend for me. Or in this case, a good week.
Anyway, it's ALWAYS great to see my friends. I will always mention that. People who I wish were my brothers. The real hugs were priceless. I can never complain about that. Everyone needs a hug every now and then.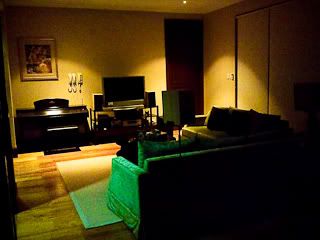 I was looking at our dimly lit living room and I was thinking the other day my friends were here hanging out. Now it's quiet. And so is the swimming pool.
…and the sad violin plays in the background.
*****
Christina's lola died yesterday. She was confined at the Asian Hospital since Wednesday. She was 90 years old. I was so tired, I didn't do my afternoon rounds. I took a nap instead, because I swear, after lunch, I couldn't keep my eyes open. Plus, I thought I was close to having a flu. I already had a sore throat. I visited the wake in Funeraria Paz at the Manila Memorial in Sucat after my nap. Chris was there. And so were her Mom and Dad. The place was not yet crowded. I met her 3-year-old nephew who's so hyper he talks 3,000 km per minute. Kaya naman pala. He loves candies.
Before going home, I visited the grave of my brother, the original Felipe. When I was a kid, puro name plates lang ang nasa area na yun. But I guess over the years, relatives of our dead "neighbors" became richer and started building these huge tomb stones and markers. Sa amin na lang yata ang natitirang flat pa rin ang lote. Ehehe. I think Mom is planning of moving Felipe's remains to our little slot in St. James.
*****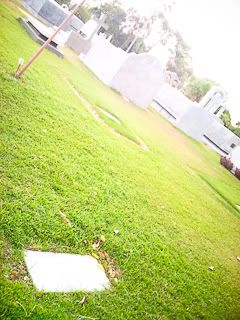 I'm hoping my cough won't get worse tomorrow. I super need to do my rounds. Right now, I already have colds. So I'm really crossing my fingers for good health.
So please please please. Dalawin sana ako ng antok.