In our village, posters of the candidates of the coming elections are placed at some neutral places assigned by the village office. Usually on vacant lots. I wish the rest of the country can do the same, even in non-private residencial areas, because unregulated postings on public posts, walls and establishments is just too unpleasant to see. Wouldn't it be nice if there's order?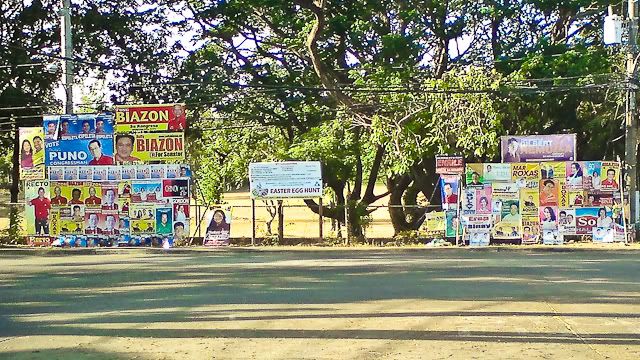 *****
I haven't seen the Southies in a long time. And the last time they visited was late last year. I don't exactly remember who made plans but someone wanted to have a Saturday night hangout time so I reserved my weekend for it. Rusky arrived early, we still had time to watch the DVD of Rent Live. Roadrockafella and Fenrirtatler had a minor obstacle at the gate maybe because it was already 10:30 pm and the security guards had to confirm this and that. When my other friends visited naman the other day, hindi na ako tinawagan sa telepono ng guard. Kasi siguro it was still day time. Medyo nakaka high blood. Pero nakarating din naman sila.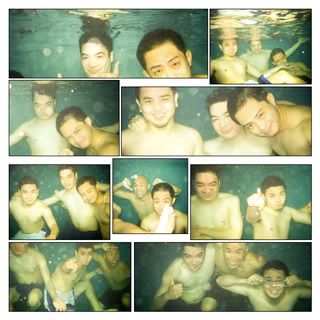 Siguro we starting swimming around midnight. But we didn't stay too long. The water was too cold. At least for Roadrockafella. Ahaha.
Nakita ni Roadrockafella yung DVD ng Kung Fu Panda. Hindi pa daw niya napapanood. So we watched that while chomping on pizza. Fenrirtatler was too tired to keep awake, he slept through later part of the movie, climbed on my bed and dozed off. The rest of us continued talking after the movie until siguro 3:30AM. Rusky had to go home. Roadrockafella and Fenrirtatler stayed for the night. Instant sleep over.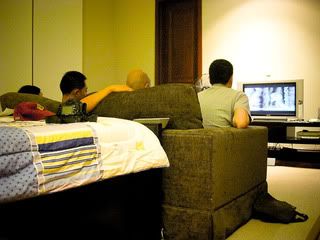 Baka medyo matatagalan na makita ko ulit ang Southies, or at least the next time they come over to hangout. Fenrirtatler is leaving tomorrow for SF to visit his family. And when he comes back start na ng internship niya. Rikitikitik left yesterday for a 3-month work-related stint in Chicago. And Roadrockafella and Kckevin are going to the Songkran Festival.
Anyway, it was a good week, and a good weekend seeing my friends. At least nagagamit na ang swimming pool nang mas madalas. I have to remind myself to swim regularly. I'm not looking forward to the new week. But I have this positive feeling left by the past week to keep me optimistic and smiling for now.