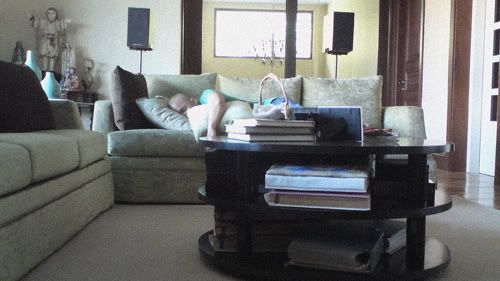 Nakakapagod din pala maging positive all the time. Ugh! Hindi siya nakakasawa. It's just that nakaka-drain lang physically. Siguro that's one reason some madres are masungit. Oh, I don't know. Maybe it's just me. But it's okay. I'm happy. Happier, I mean. Yesterday was my first time to attend a first friday mass alone. I had communion, even though I still don't know what it signifies exactly. Alam ko body of Christ pero, so what? My prayers will be more powerful if it's in my mouth or something like that? I don't know. I just pray na lang in my seat after receiving it. I have a problem listening to the readings. All I'd hear is blah blah blah blah and then thanks be to God or praise to you Lord Jesus Christ kahit na wala akong naintindihan. Good thing there's homily where the priest talks about the day's lesson. But the echo is one distracting communication barrier. Pero ok lang. More or less I get the jist of it. And looking at the St. James altar makes me feel at peace. I had a special intention for attending yesterday's mass. A friend is in the ICU, struggling with pneumonia. And I learned a few hours ago that he's doing better na daw so that's a relief. Salamat facebook for keeping my updated.
I did say that I'm tired. I took a nap kanina kasi I just couldn't keep my eyes open anymore. Kaya I slept in the family room instead of in my bedroom because the aircon is more bongga. And init kaya ngayon!! I'm wearing this green shirt I bought from a little tiange-ish store in ATC and it's soft and comfy, it lasted me the whole day. Normally with my other shirts by 1pm I'd be swimming in sweat kahit na I'm indoors. Ew. Yeah, it sounds gross.
I'm picking up my Mom and Dad at the airport later. So that means my saturday sweetheart day with my boyfriend is officially cancelled. And that's okay because we can make a Sunday sweetheart day anyway. I hope lang na we have time tomorrow. It's Mother's Day din kaya!