I parked at Ma. Cristina kasi I know the street at the other side gets full kahit na 6:30AM pa lang. I took a peek and true enough, there was already a pila of cars parked in University avenue.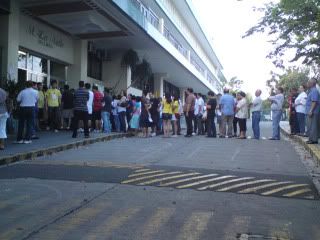 The pila outside the building which was uncessary kasi may pila naman sa classrom.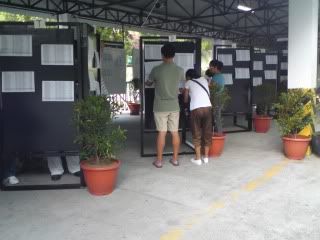 List of voters.
Checked my name in the list and went to my precint. Room 4H. It used to be room 3B when I was in grade school. Hay. Zobel changed A LOT na talaga. There was a slight chuva when I got there. There was this old skinny guy who looked like an outsider and before I got there he collected names pala for the pila. I didn't list down my name kasi pucha di ko naman alam. Pero maaga pa rin ako. Di naman nakalagay sa voter's guide that was handed to me when I checked my name. A couple of us complained sa marshall kung bakit nauna pa yung mga nasa list eh mukhang hindi namang residents. AHAHAHA. Lait lait lait. That was a joke, okay??? Anyway, aparently the old guy isn't an official and he was just being kupal. Kainis. Pinagalitan tuloy. Baka flying voter pa. My gulay naman kung may ganun sa bongga province namin, di ba? Ahahaha. ANYWAY, as soon as the coño ladies beside me complained about the system, nagkaroon ulit ng bagong pila sa Holding Room and I was first in line. EH KASO, Senior citizens first daw eh 10 yung senior citizens sa kwarto. GOOD LUCK NAMAN DI BA? But it's ok. At least may aircon. Tangina. Grade 4 classrom ngayon may aircon. When I was in 4th grade..... ahhhh, nevermind.
May 1 time na I had to go to the restroom. Usually kaya kong tiisin pero kanina I super had to go talaga. So I told KC, the Comelec volunteer assigned to our precint, that I will go to the loo lang.
"KC, I super hafto go to the banyo. Save my place ok? I'll be quick."
"Ok, ok. But please make it fast kasi you're next na."
I bet she's either from Woodrose or Zobel kasi she's pretty and tisay. May ganon?? Hahaha. I saw a couple of old classmates, tapos some of Mom's prayer group amigas, tapos our old neighbor. Hilarious. Parang disaster movie. LOL. Ang dami ding cuties!! Waiting for my turn was hell. I didn't bring my iPod. Tapos I think may signal jammer sa Zobel kasi I couldn't make a call with my Globe and Sun. Makikipag daldalan sana kay boyfriend. Anyway, 40 minutes later it was my turn na. Thanks to my kodigo, I was in the voting room not more than 10 minutes. That includes writing down my name sa registry. I looked at the back side of the room before leaving and the 5 senior citizens who were MINUTES ahead of me were still filling up their votes.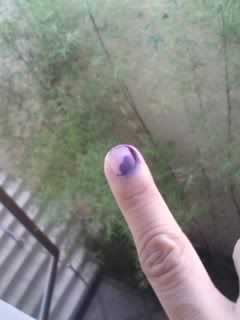 I'm just glad lang that I'm done na. Pagkauwi ko, my Mom and Dad were just about to leave pa lang. I logged on to facebook and went to my Cafe. Hahaha. :D It feels like a Sunday!