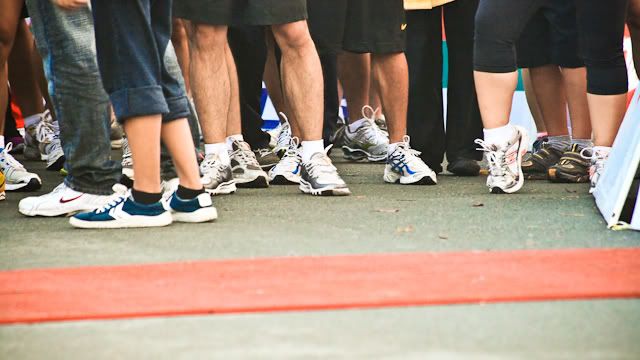 The boyfriend joined yesterday's run in Filinvest Alabang. It was my first time to actually witness this kind of event. Mahirap ha. For one, I had to wake up extra early. So clapness to the regular morning runners. Effort! Pero wag ka, pagdating namin sa venue, my eyes feasted on gwapo and hot Alabangers (na sana kapitbahay ko silang lahat di ba). Hay sarap. Kulang ang isang araw kung kakainin ko sila. Actually, shadows lang karamihan sa kanila when we got there kasi super early morning pa yun. Pero dahil siguro nadevelop ang night vision ko sa kapupunta sa bathhouse noon, alam ko na sa dilim kung sino ang gwapo o mongrel. Sana one day ma-develop ko rin ang power na maka detect sa malayuan kung sino and bad breath at
jologs
jejemon.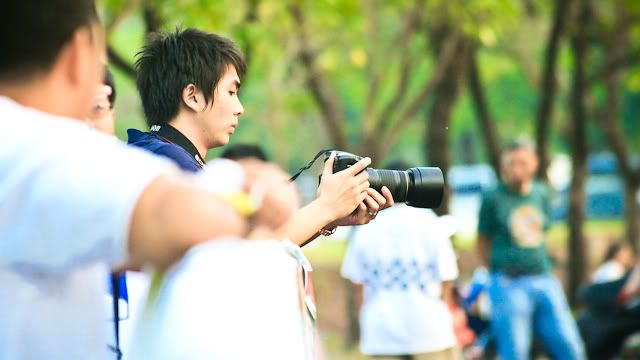 Cutie photographer alert!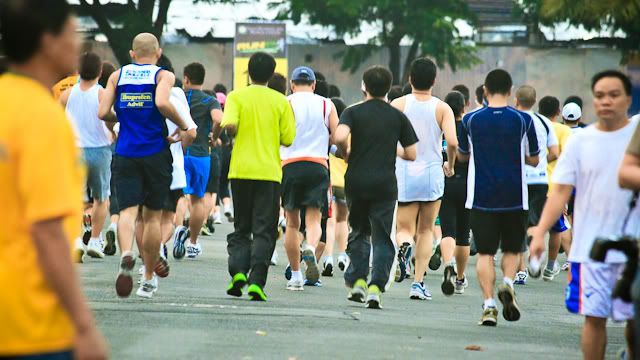 Part of the 10k group
Anyway, it was Hani's first 10k run EVER. I think he was excited about it. I was excited to look at the sea of men. Ahaha. Cuties, Daddies, Twinks, Hotties. Lahat meron! Putcha ang landi ko. HENIWEYS, I got worried when the other 10k runners started arriving at the finish line tapos wala pa rin siya. Dinasal ko ulit yung dinasal ko para sa sarili ko the last time I ran on pavement 5 months ago.
"Bakla, 'wag kang himatayin. Nakakahiya!!!"
Tapos parang magic, nakita ko na siya sa lente ko and I started taking pictures. And he clocked in at 1 hour and 7 minutes. I don't think that was bad at all!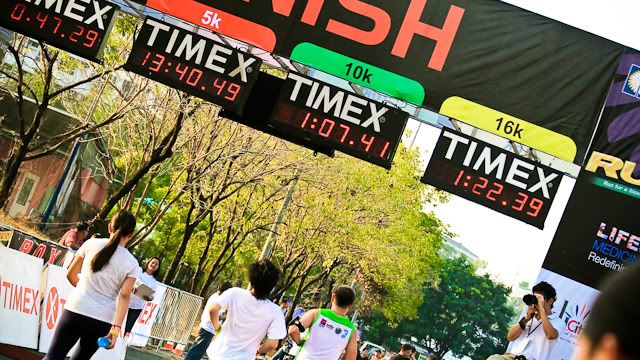 Hani at the finish line.
I brought my camera with me, long lens attached, so I can take pics of boyfriend in action. Kasi naman itong Photovendo kinukunan ka kahit haggard ka na. Minsan naman mukha ka nang ginahasa ng balyena sa sobrang pagod. Boyfriend now has better running pictures. Naks. Hehe.
Remember to smile when you see these guys kahit na haggard ka na para kagandahan ka pa rin sa pictures. Ahaha.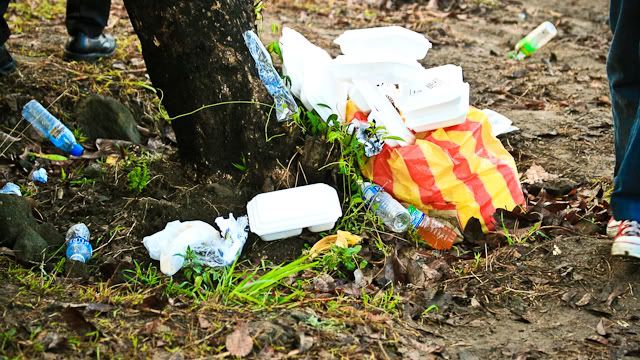 Salamat sa baong basura ha! Hmph!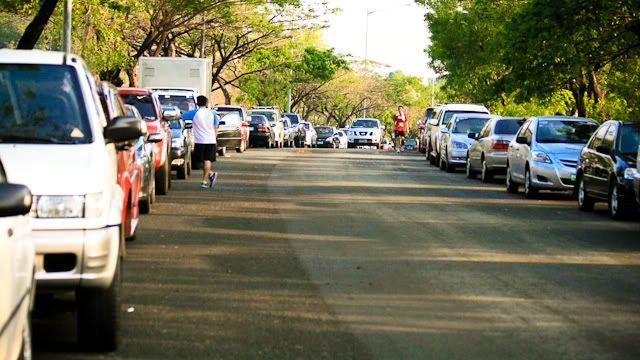 First time to see this much cars parked on the road in Filinvest.
And speaking of running, I haven't done any! Yeah, I know. I said I was gonna start running outdoors 2 weeks ago pero wala eh. Shy ako. More of conscious, actually. I wanna run at night sana. Pero, hay nako, call me Lazy Boy. O, yun na. I'll stick to running on the thread mill.