I don't know how to write the intro about the weekend I just had but in simplest effort-free description about it, it was relaxing. Well, I'd like to think that it was. Yesterday, Hani was scheduled to do an after-lunch pre-nup shoot as a favor for a friend and I was suppose to accompany him for that. But at the last minute, the couple had to postpone it. And as a result, Hani had more time at the gym while I had... uhm... and extended lunch. LOL. I made a mental note to myself that Saturday is lamon day so I shouldn't complain.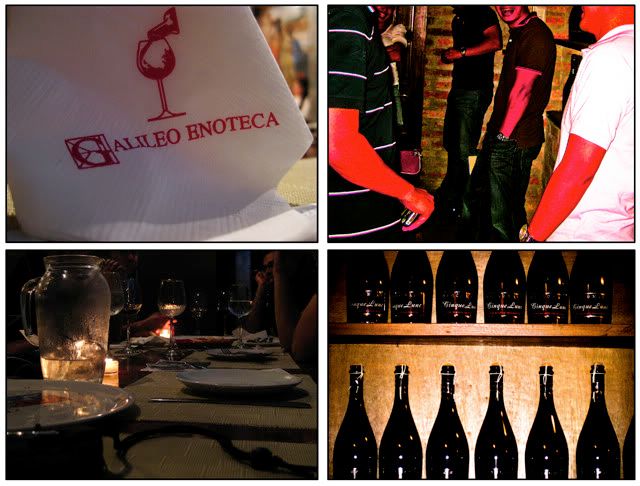 ANYWAY, it's KD's birthday on Monday and the Southies and his S.O. gave him a surprise dinner thingamajig. Actually, it was KD who invited everyone for dinner in Alabang. Hay nako, I'm too lazy to make kwento. Basta, we had dinner at Galileo Enoteca & Deli in Mandaluyong and KD was, uhm, SURPRISED to see us there. Bibili lang dapat siya ng wine. LOL! Anyway, half of the group wasn't there on time (some things just DON'T CHANGE.... LOL) so... yeah, sumemplang ang surprise. Ahaha. I'm wondering if that place is a gay joint because I swear at least four different tables were occopied by badingerzies. How amusing. LOL. I don't know about the pastas but the pizzas were good, as long as they're still warm. Hani and I didn't follow to the group's post-dinner coffee break. We had to sleep early coz we already made plans for Sunday. I brought D home to Las Pinas. I was in bed in Alabang by midnight. And for some strange reason I woke up at 3AM. I went online with my iTouch and chatted for a few minutes with my friend Boyet and then went back to sleep.
I woke up at 8AM because Hani called me on my mobile.
"I'm on my way."
"Patay. I'm still in bed."
LOL.
I had a few bites of breakfast and then went through my usual banyo business. I was ready to go when the boyfriend arrived. We went to Tagaytay in style. (wink, wink). We used the E240. Basta, ganun. We first went to Paseo de Sta. Rosa and did some window shopping. Discovered some new alleys and roads while we were at it.
Then we had lunch at the Fire Lake Grill at the Cliffhouse. Lunch was a bit expensive but Hani says we should have expensive dates sometimes para hindi na lang kami laging parang nasa Food Court. Ahaha. Not a problem with me naman. We plan to dine at hotel Sofitel one of these days but we're saving our appetite for it. We don't really eat a lot na parang there's no tomorrow but I already tried the Spiral Buffet at Sofitel a couple of times and it's like a feast made in heaven. The selection is like endless. Basta, I'd like to go there with the boyfriend when we find the time. ANYWAY, our food was good. My pork steak was impressively tender and Hani's beef was flavorful. Then we had Mochi. Tapos I had Yogurt. Hani was already too full at that moment for yogurt. I was mysteriously still hungry. LOL.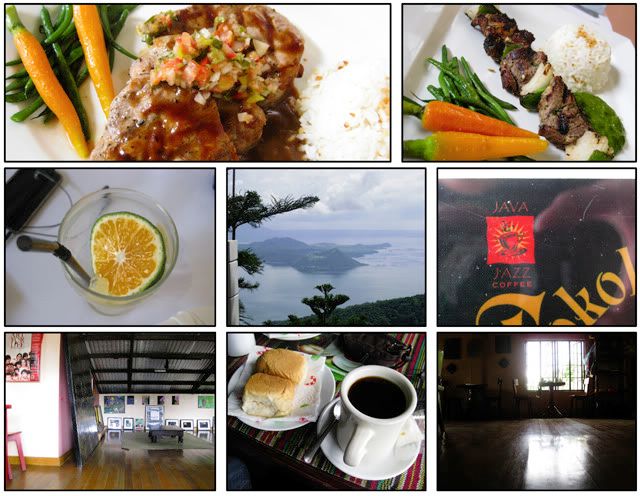 For coffee, we went to Java Jazz, which is after the main road that leads to Sta. Rosa, right beside T house Tagaytay. We discovered this place when Hani and I had an over-night stay at the T House either last year or 2 years ago. It's a cozy little place that has a Gallery wall that features art works of different mediums. It's like your little Sagada or little Cubao X. We ordered their Kapeng Pinoy, which I assume is Kapeng Barako (oh no not again!) with 2 pandesals with palaman for each of us. Sarap ng coffee.
We then had to go back to Alabang because Hani had a badminton game at 4pm in makati. I spent the rest of my afternoon watching my DVD of "Across the Universe" (which I got on sale last weekend at Powerplant) starring Vampire Queen Sophie-Ann. I can't remember her real name. Basta that's her True Blood character. LOL.
So yeah, it was a hassle-free weekend for me. Saya naman. :D