HR: Sir. May aplikante po. Nakapasa naman sa written exam. Tapos na-interview na ni [My Accountant]. For final interview niyo na lang po bago matangap. Kaya lang...
Me: O.... kaya lang... ano?
HR: Half boy half girl po.
(Ha? Bading? Hindi pwede yan. Ako ang boss dito. Kinakailangan ako lang mananatiling diwata sa kumpanyang ito!
)
Me: Anong half boy half girl? Bakla?
HR: Girl po siya na mukhang boy.
(Ay? Butchi? Hindi din pwede yan. Magkakapatayan kami ng Timbuktung itesh! Agawang girl power 'to.
)
Me: Naku, hindi magiging komportable ang mga girls natin sa ganyan. Sabihin mo na lang na on file ang application niya at tatawagan na lang siya kapag magkaroon ng opening sa kahit anong branch.
*****
I turned down an applicant because of her sexual orientation. Para akong ipokrito 'no? But seriously, I was more concerned with the well-being of my other employees who are all girls. I don't think they will be comfortable working with a lesbian, and a butch at that. And I rely so much on my employees' attitude with our customers, hindi ko alam if my customers will be comfortable transacting with a butch at the counter. With their lodging and work set-up, I don't think it will work. I could try hiring her to prove myself wrong. But I don't want to take that risk. Not yet. Not now. Not when my people are still giving me headaches left and right.
It's so hirap to be a diwata talaga. Can I just promote myself to Diyosa? Diyow-za Zaragow-za.
*****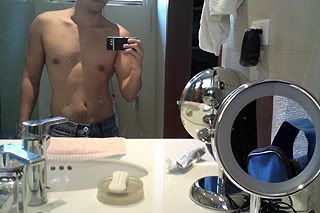 Oh... oh! I got chika. I think I slimmed down. Kasi with the jeans I'm wearing now, I need to wear a belt na. Dati kasi I was so fat the pair was hugging my waist. Pero now, I can see na my puke sa luwag. Ahaha ahaha. But I still can't fit in my board shorts. I mean, mukha pa rin akong may salbabida! And speaking of puke, I saw this ad while doing my rounds in Manila.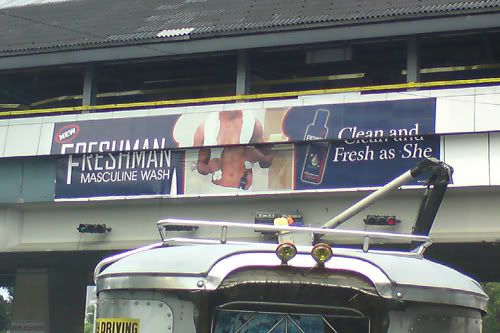 Na turn on ako nung nakita ko ito kasi sheht, ang bastos ng nasa isip ko. Tapos nandoon pa yung bottle naka-ipit sa towel. Tapos ang bango pa ni Nonoy. So ayun. Naloka ang kaluluwa ko. I think I wanna try using this para malaman ko naman ang pakiramdam ng may fresh kiki. Sana may ibang brand kasi sa color scheme ng ad parang nagbebenta lang sila ng liwayway gawgaw. Chuh-kuh.
*****
I'm starting to like blogger. No, I mean, I STILL hate the blogspot interface (itaga mo sa bato, it's so not user friendly talaga). But I get to discover other Filipino gay (o siya, bisexual na kung bisexual para sa mga baklitang nakulangan sa Promil) bloggers who are so hilariously closeted. Really, I'd like to meet them some day. Nakakatuwa basahin ang mga kwento ng buhay nila. At humahanga naman ako sa paraan nila ng pagsusulat. Makulay nga talaga ang buhay natin, 'no?