Dati-rati, a 30-minute run on the treadmill spelled s-t-r-u-g-g-l-e. Pero now a 1 hour run is trouble-free. Well, except for this little pain on my left foot and a little discomfort on my left knee. Yun nga lang, dapat may pinapanood ako sa iTouch ko. It's amazing how distraction can make you do more, 'no? After gym, I went to ATC for lunch. Because I won't be doing my rounds today and will be in my home office in the afternoon doing paperwork, I went out in a shirt, puruntong shorts and tsinelas. O di ba, feel at home talaga. I look like a skwakker but that's ok at least nobody will realize that I'm a princess.
Chika.
Walking around in tsineles is so not comfortable talaga. Kahit na Havaianas pa yan or Hawaiianas (ahaha ahaha), instead of mobility, my concern would be not to let my flip flops slip off my feet kasi nakakahiya yun. I saw the Burger King sign sa plaza and decided to eat there na lang. I was greeted at the entrance by a chaka with a lousy and insincere "Good afternoon, sir." Nakaka inis yung ganun, 'no? If they can't greet their customers properly, better not greet na lang. Chaka na nga, lazy pa. DIE, HIJO DE PUTA, DIE!!!! Mabuti pa ang masahista, malambing yung "Good evening sir" nila. Hihihihihi.
* Pause. Inisip si Alvin.
* Napakagat sa lips.
Hihihihihi.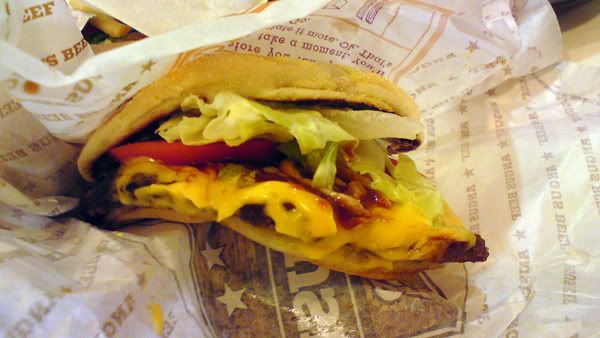 ANYWAY, I got myself the BK Steakhouse Burger meal. For 195 pesos, it was the saddest looking buger I've seen. When I unwrapped my food, it looked so flat, akala ko Burger McDo. When I looked at it sideways, it was so ugly, mas maganda pa yung anak ni Greta. LOL. It tasted ok lang naman. Nothing to rave about. Nag Brothers Burger na lang sana ako. Mom and Dad always get this burger when they dine here. I. Don't. Know. Why.
I went around the mall pa checking out gadgets and stuff. I love the mall's top level. It's where the toys are. I looked at the Nokia phones on display. I'm still drooling on the N97. It's a nice Smart phone kaya. Free pa yung GPS map. I checked out the new laptops too and wow, notebook computers now are so cheap. Imagine, dati parang Vespa yung price ng isang laptop. I saw the mobile One kiosk too. Drool on the Blackberry. I like the Blackberry more than the iPhone kasi, like my old Treo, it has a real qwerty keyboard. Kaya lang, like the iPhone, magastos gamitin yung map niya kasi data connection is needed unless you got an unlimited data subscription. The iPhone and the BB are a maluho person's smart phones. But you gotta admit that the new iPhone is REALLY pretty. But anyway, I drool on all 3 phones.
*****
While driving home, ino-okray ko si Mary J. Blige sa radyo.
You know I love music
"Oo naman. Singer ka, eh."
And every time I hear something hot
"Ano?"
It makes me wanna move
"Ingat ka lang. Lola level ka na. Wag kalimutan ang calcium."
It makes me wanna have fun
"Umayos ka. Mas thunder ka pa kay Mariah."
But it's something about this joint right here
"Saan?"
This joint right here
"Ah ayun."
Its makes me wanna…..Woooh
"Nagka orgasm ang Ate kong negra."
*****
I'm thinking of going to church tonight. And eat out again, as well.