Hay nako this Metro Manila traffic talaga spells malas. So I was on the road kanina heading to Bonifacio High Street to meet up with my boyfriend kasi he had a meeting somewhere near the area and he couldn't come to Alabang to meet up with me on time. I left Alabang about 3PM tapos on top of the Filinvest bridge pa lang I could see the north bound SLEX traffic na. Okay. The scenario was stop and go, stop and go because gapang talaga. I readied myself for at least an hour drive. Mantakin mo. I was listening to the Hangad album and I was on brakes pa nang biglang... BANG! Someone hit me from behind. This was just before the Alabang viaduct ha, right at the foot! I looked at my rear view mirror and saw that it was a Revo that bumped me. Akala ko taxi, I was ready for my taray pamewang pose na. But it was a private vehicle. Anyway, I was cool, the thunder cat behind the wheel of the other car was cool. Feeling ko talaga he was texting when he hit me. I asked him about it, napapikit lang daw siya for a sec. Ang malas naman ng 1 second niya na yun. And it's good that he admitted that he was at fault dahil my insurance just expired. Hahahaha. Tangina. My insurance company (I'm so quick 'no?) told me to get a copy of his insurance contract (which I did in pictures) and police report (which I will pick up tomorrow) and OR/CR of vehicle number 2 and then he'll make magic na lang daw (I love my ahente. He's so nice and cute and fuckin' straight, leche). Suffice to say, I need to get a new insurance contract with him. Haaay. So what was the damage?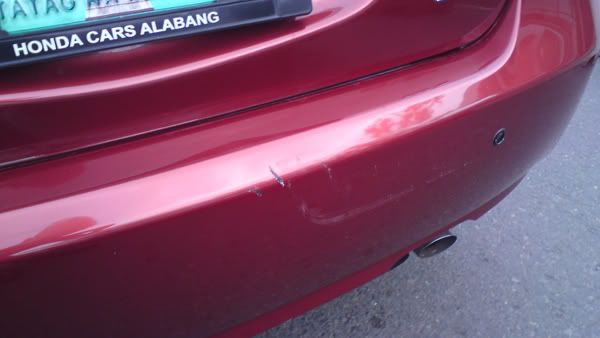 A claw-like scratch at the rear of my car. My right back up sensor got damaged as well and I'm super sure that will NOT be covered by his insurance kasi that actually ruins my electrical warranty.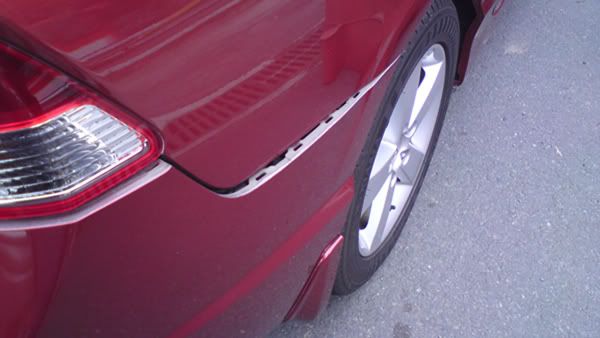 Plus the right side of my bumper got lawlaw a bit. Nothing major but it's obvious that my car got into an accident which is kinda nakakahiya kasi my neighbor will now think that I'm a lousy driver which I'm not (I'm so galing kaya!). Ako kaya ang binanga! Conscious, di ba?
Fucket.
My car just turned one year old. Happy birthday to may car na lang.
Medyo hassle lang was everyone was looking at us. Lahat ng dumadaan. I was like, "Heller?? Ngayon lang ba kayo nakakita ng kalbo??"
The 2 highway patrol people who assisted us were courteous naman. But Mr. Thunders and I needed the Police Report for the insurance ek-ek. Kaya the highway patrol motorcycles escorted us to the alabang police station complete with wang-wang pa. Lahat ng vehicles tumabi for me. O di ba, para akong si Princess Di before she died (eeeek!).
It took us about an hour to process the whole thing kasi the police was writing it in english pa so di ba. E.F.F.O.R.T. One police guy took pictures of our vehicles tapos ipa-padevelop pa which I kinda found weird. Ano ito, full service deluxe? Bongga ha. I was ready na to give money, or as my Mom would call it, "Pampadulas." Yun pala may catch. The charge for the photocopies was 15 bucks. Tapos for the pictures was 200 per car. That's 215 pesos for me! Raket, pare, raket. But I think that's better na than, uhm, 500 bucks. LOL!!!!! So keri lang. Frankly, I don't like the police in general, I believe they're spawns of the devil, but kanina they were courteous and maayos kausap. Yung isang police doon hindi siya guapo pero I wouldn't call him panget naman, tapos ang macho-macho niya, I could see his biceps as he does his paperwork on his desk. Bathhouse quality, my gawd. Pumuputok ang muscles, as in! I'll call him PO1 Borta. Wish ko sana siya na lang yung nag assist sa amin. Haha. Tapos bigla kong natandaan yung balita na minsan may mga police na sumasali sa mga gay orgies sa Makati at Ortigas. Tapos inimagine ko kasama doon si PO1 Borta.
Kaloka.
Obviously this thing took up so much of my time, natapos na ang meeting ni Hani so he drove over na lang to Alabang. I didn't feel down naman with what happened. Like what I said, I was cool. I was even smiling. I smiled some more when I imagined PO1 Borta in that orgy. JOKE! LOL. My point is, hindi ako galit. It was an accident. It helped na Mr. Thunders admitted that he was at fault. So I really deserve the Ms. Congeniality award this year na. You know, for world peace. LOL.
Nung nakita ko si Hani, he gave me a box. Early birthday gift niya sa akin sabi niya. Nagtaka ako kasi hindi naman magka-kasya dun sa box yung Mini Cooper S. CHIKA!!!! LOL.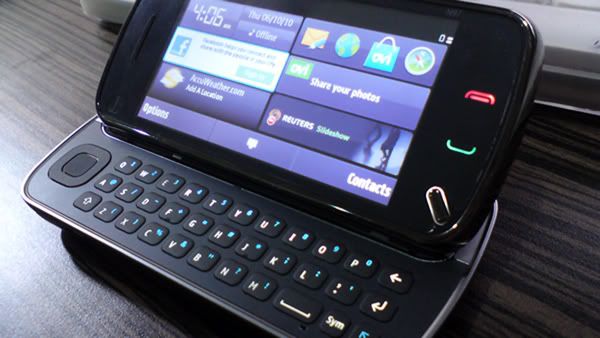 He got me a new phone. A Nokia
N71
N79! Isn't my boyfriend the coolest? Parang yesterday lang I was drooling about it tapos ngayon he gifted me with one. My boyfriend reads my blog talaga!! Hahahaha. Pero I wish he wouldn't spend so much money on expensive gifts. Basta. Anyway, thanks Hani for the gift. Of course I appreciate it. I love you!
:) :) :)
Lessons for the day:
1. Wag makikinig ng Christian music habang nagdi-drive at baka bangain ka ng matanda.
2. Hindi lahat ng pulis bondat. Meron ding borta.
3. Hindi mo na kailangang magbigay ng pampadulas sa pulis dahil kusang dumudulas na ang pera.
4. Gawing madalas ang pagblog ng wish list at pwedeng magkatotoo. LOL!!!!