While some of you are either partying or playing bongkang in bed with strangers, I was having a fun weekend in terms of pagodness and wholesomeness. Sounds malabo but here's the kwento.
Yesterday I was in Bel-Air Makati with friends because we were selling some of our old stuff in this garrage sale hosted by one of them who lives there. I had to wake up early kasi 7am pa lang daw may taong bumibili na. It was fun making money out of old things that I don't use anymore. Sabi nga ni boyfriend, we didn't really make money because we bought those things at a much much higher price. Pero it's like selling a car. Ok lang na you sell it at a lower price dahil 2nd hand na at napakinabangan mo naman for a time. Although Medyo affected lang ako sa Kenneth Cole Reaction shoes that I was selling for only 150 pesos na nga lang tapos tinatawaran pa ng 80 pesos. I mean, heller? Dapat nga 300 pesos man lang kaso I wanna get rid of it na kasi I don't use it. That was already super mura na nga and that pair didn't even have any defect HU-WHAT SO HU-WHEVUR. Anyway, I was still nice kahit na ininsulto niya yung price ko.
"Badong ha, hindi yan Spartan."
Bumigay din si badong kasi he still bought it for 150 pesos. Bb. Muntinlupa wins. Yehey. So, good-bye nice shoes. At nakakatuwa naman yung mga workers sa Bel-Air kasi kung mag-bayad sila barya or exact change. Sa ibang villages yung bumibili ang ibabayad sa iyo 1,000 pesos pero yung bibilhin lang 50 pesos. Ang windang level ay number 100 lang naman, di ba? Ay heniway, it was fun. Pero nakakapagod. After that, boyfriend and I went to Megamall para magpataas ng cholesterol level. So many food, so little waistline.
ECHOZ!!!!!!!
Pucha. Hindi na talaga ako magiging balingkinitan. Di na ako magiging size 27. Hangang size 28 na lang.
Double ECHOZ!!!!
Kanina naman I woke up early again kasi San Pablo field trip kami ni boyfriend with 2 other friends -- Jamiqua and Angenique -- and we targetted to visit the famous 7 lakes. We got around using my Nokia Ovi map (ahem, ahem). It was kinda palpak kasi pagdating ng San Pablo wala na sa map yung mga small streets kaya we ended up getting lost a bit. But we got around just fine, kailangan lang naman mag-tanong.
"Mama, pwede po bang magtanong?"
"O Sige."
"Thank you."
The first lake that we visited was Bunot lake. Sa lahat ng mga pinuntahan naming lawa today, this was the easiest to reach. We were able to park the car just beside the lake (thanks sa poging kuya who owned the land, mahal na namin siya), and there were no inclined steps that we needed to use before reaching it. In fairness sa place, kahit na isang katutak ang aso at pusa sa paligid, it was still neat and clean. Wala akong natapakang ebak. LOL.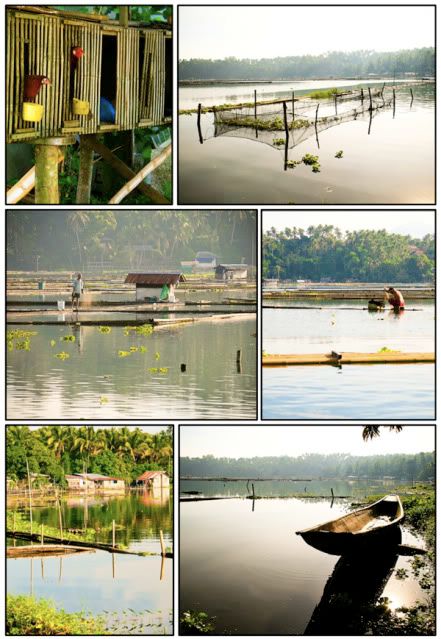 Next stop was Kalibato lake na short lang ang walking pero heart attack level ang trail. Steep na bongang-bonga.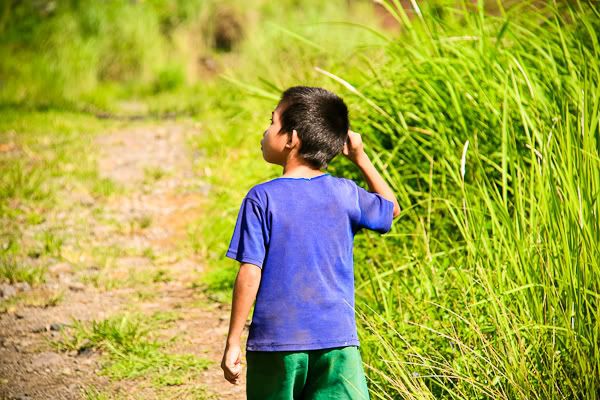 We were led by this kid. Pwede namang sabihin niyang "you just make sunod this trail tapos you'll reach the lawa na" pero I guess this is part of the service para may konting tip siya kahit na paano. Binigyan naman siya ni Angenique. After the 10-minute trail, nakita namin ang lawa...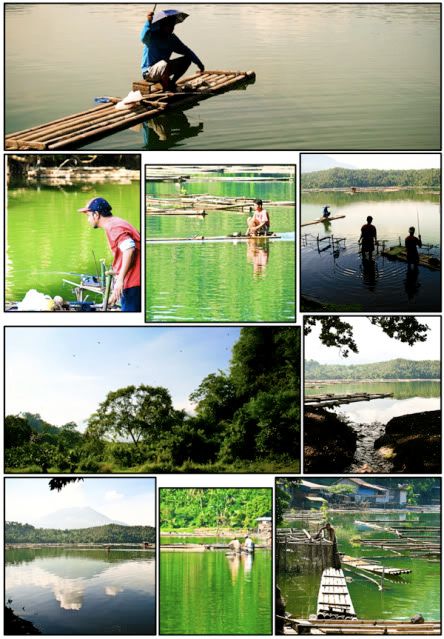 ...at si Kuya, na lahat kaming apat na beckilita napatingin dahil meron siyang something-something.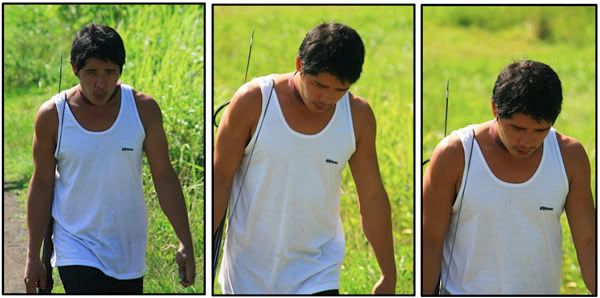 Sorry, wala akong pic na nakaharap siya dahil may natitira pa naman akong hiya sa katawan ko. Pramiz, that's true.
We got lost looking for Pandin Lake kasi wala nga sa Nokia Map tapos it didn't say naman na we have to park the car tapos take the 15-minute dirt path walk like in the movies. But anyway, that's what we did.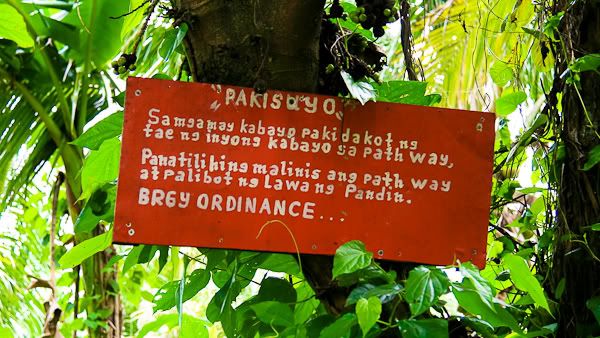 Wala naman akong nakitang ebak ng horsie pero kung si Totoy Mola ang makasalubong ko dito haharangin ko siya tulad ng pagharang ko sa mga papable menchus sa Club Bath.
Ah-ha-hay!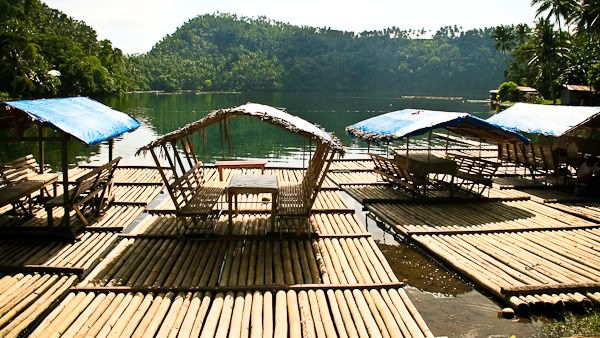 When you reach the lake, you will see bamboo rafts that a group can use for 150 - 180 pesos per head to stay at the middle of the lake to swim or have lunch. You can also use this to get to the other side of the lake.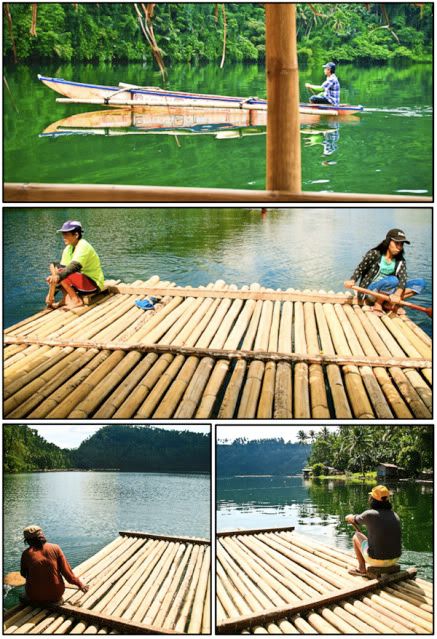 Medyo nahiya ang beauties namin kasi apat kaming lalake (Chika!) tapos yung mga nagro-row apat na babae, plus one guy who was acting like a marshal or something. Para kaming apat na diyosang pinagsisilbihan ng apat na diwata at isang body guard. Cleopatra levels, di ba?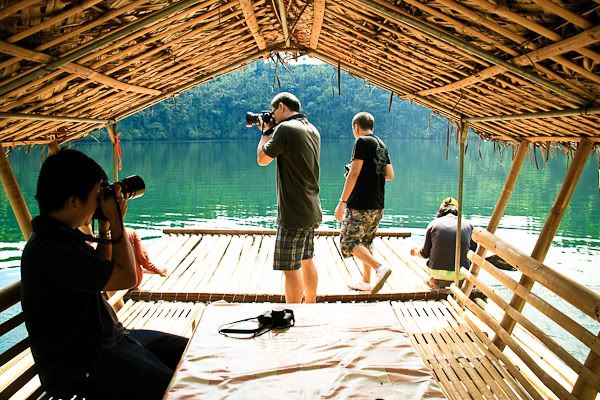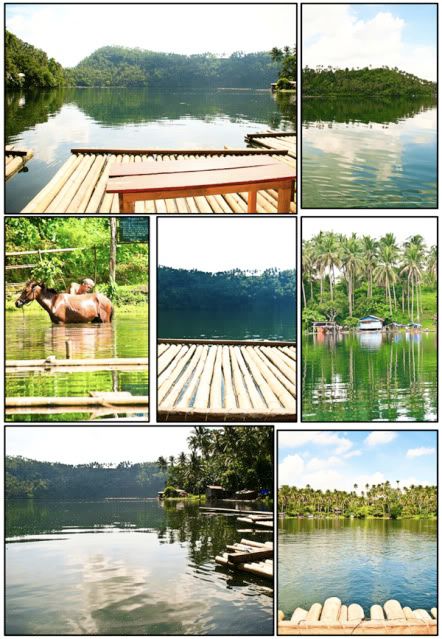 They were nice people, ha. Tapos hey keep the lake clean just by among themselves. I mean, they don't ask help from Politicians kasi daw they'd ask for favors in return naman like getting their votes or abusing the lake. There were only a handful of people who live right beside the lake kasi they want to keep it clean. So you see, may napupuntahan talaga yung 180 pesos na bayad mo and that's for maintaining the place.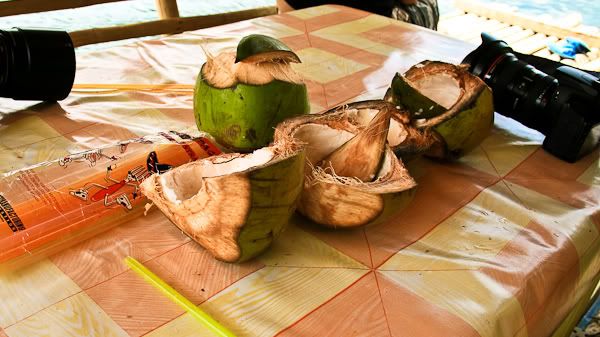 Plus the fresh buko juice. Ehehe.
Visiting Pandin Lake is like making out with 2 men with one super powerful kembot because at the other side of the lake, Yambo Lake naman is 20 tamblings away. Magkatabi lang sila kaya they're called the twin lakes. So bongga, right?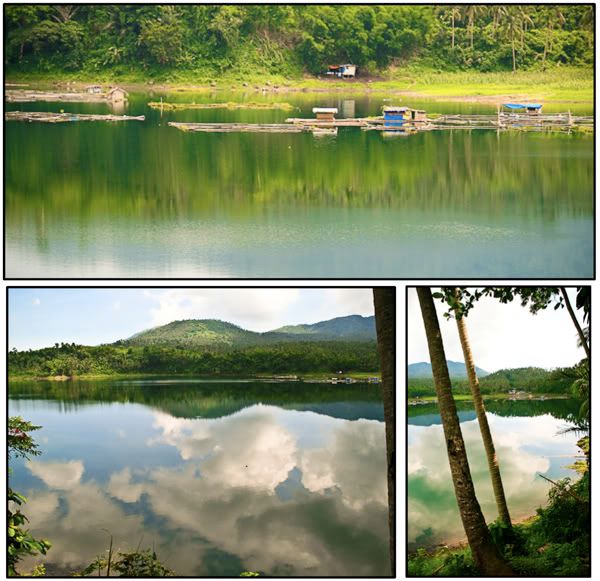 I didn't take a lot of pictures because I couldn't get a better view. I could if I decided to go down the path which was really steep. So afraid naman ako na mahulog at baka mapatili naman ako. Death to straight-acting points, di ba?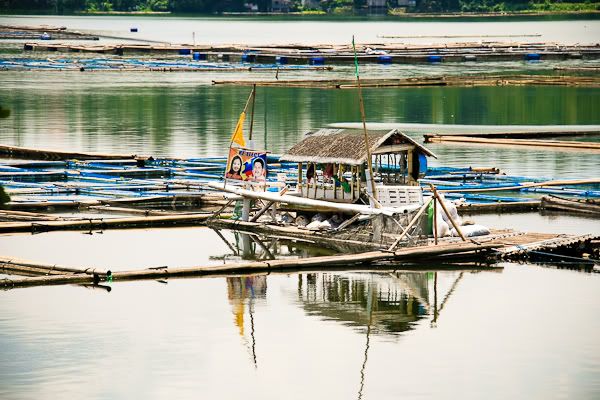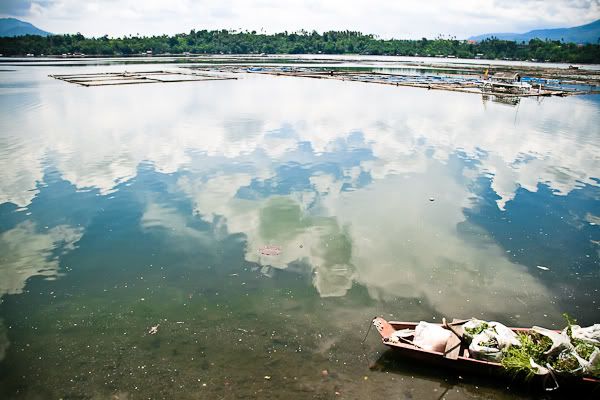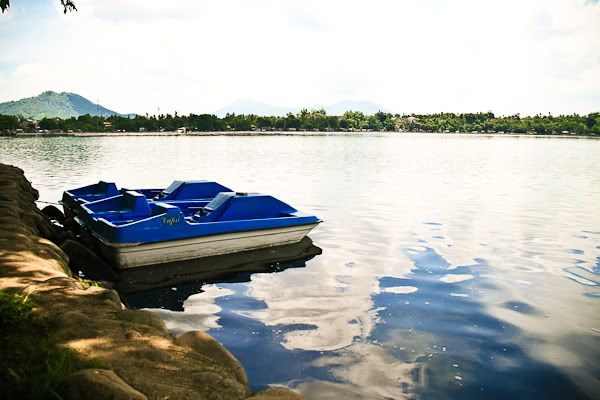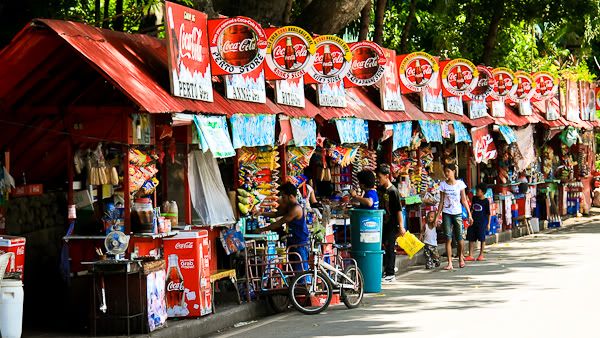 We had lunch at Sampaloc Lake which we decided to be our last lake na because everyone was already too tired. 5 out of 7 lakes, not bad naman. Next time na lang daw yung 2. Compared to the other lakes, this one was dirty probably because of the establishments around it. And it seems it's true nga na an increase in population destroys our environment. The people's undisciplined behaviour makes it worse. Anyway, lunch sucked. But coffee fix was heaven sent with my Starbucks gift certificates (Thanks Francis!). I'm just glad that the trip is over now. I did enjoy it pero 2 days na magkasunod na puyat isn't just for me. Too haggard. It was a fun weekend though.