It's Sunday night and it's late and I'm still very much awake thanks to my afternoon nap. Para akong ginahasa ng sarili kong unan na hindi naman ako pumalag. My sched yesterday was bongga-ly packed and I loved it. So, morning I was at the gym and worked out for about an hour and a half. JV my high school crush was there. Kalbo na like me pero so cute pa rin. Tapos sa lockers nakita ko siya naka white briefs. I felt fat kasi he was so hot. I had a 3-second pornographic fantasy of pinching his butt and then I woke up. Tangina, nagpalpitate talaga ako kasi gusto ko talaga siyang kurutin. LOL! HENIWEY, I saw him again at the lobby and this time I said HI na talaga at nagkamustahan session naman ang dalawang kalbong bakla.
BUTI na lang naligo ako sa gym dahil pagdating ko sa bahay wala pala kaming tubig. Ang lupit sa akin ng life. Walang tubig, walang internet. Mabuti pang mamatay na ako!!!!! OA level, I know. I had to leave Alabang early because Boyfriend and I were watching the 2pm performance of Legally Blonde at the Meralco theater. Buti na lang I did kasi traffic from Alabang to Sucat was so bad, naubos ko yung Big Mac and fries ko even before reaching Sucat (burger in one hand, steering wheel on the other). I parked my car at Metrowalk Ortigas where Boyfriend picked me up. The play was siguro 10 minutes late. Not so bad in Pinoy standard, I think. May mga celebrities sa audience like KC, Rowell Santiago and Misterhubs (hihihi). Nikki was good. I've always liked how she sings and I think she did well naman. Akala ko Michael V was playing Emmett. Si Nyoy pala. LOL! After the play, we had a massage at our favorite little spa in Quezon Ave. Pinamasahe ko lang likod ko. It lasted for an hour and a half and it felt gooooooooood. It was a mix of pain and pleasure. I wish I fell asleep though. Then we went to West Capitol drive for a friend's birthday dinner chorva at Café Juanita. The food was kakaiba yet masarap. If this place was in the south, I would definitely come back. But I live in provincially far Alabang so, wala, ho-hum. I met chick lit queen TFS - who happens to be a high schoolmate and a sister of a batchmate - who birthday boy met when he was still working in Singapore. Small world!
Boyfriend had to leave early because he had a 16k run the next morning at The Fort. He dropped me off at Metrowalk and I drove myself to West Avenue for the Fabcasters party and thanks to Ovi Maps and GPS, I found the place. It was an option to either be crazy and drunk or be sane and quiet. I opted to behave. LOL. At nalaman ko na rin kung ano ang Soju. It's think Korean drink that tastes like tequilla. Some were drinking it by shots, yung iba by the bottle. It was fun naman and it seems that almost everyone knew everyone. So yeah, OP ako. Ahaha. But I was hanging out with the nice guys so it was okay. Nakakatuwa ang mga eksena. May mga sociable, may mga pumoporma, may mga bumoborta, may mga nagtatago sa dilim, may diva levels, may umo-aura ng hada for the night, and the hosts of the party were drunk. I had about 4 shots of Soju pero wala pa naman akong tama but I was already super tired. That's when I decided to go home na.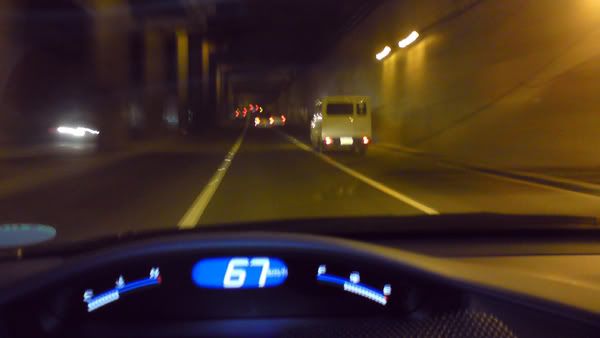 It was a peaceful drive home. Wala masyadong kotche sa kalye. I wondered about what the Southies were doing that time and thought about texting them pero dehins na. I was tired na. I almost fell asleep a couple of times when I reached SLEX. Thank God I got home safe. I got home around 2:30am.
And then my Mom called me on my phone around 8am. She was already on her way from Tagaytay Highlands heading to Alabang. She was to pick me up at 9am to go to Pasay to attend a family affair. A wake. Basta. Ganun. Haggard level ang waking up portion but I got through with it. And then I discovered that my internet's back. Gusto kong umiyak sa tuwa. LOL.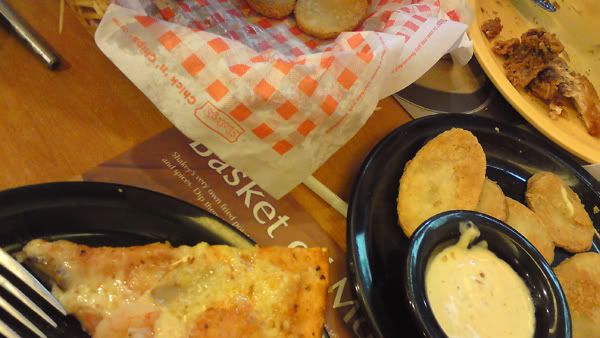 I was down and still sleepy when we got back to Alabang. But Mom treated me to Shakey's in ATC so, YEHEY. Na-miss ko yung mojos. :)